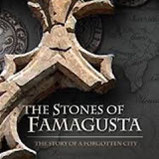 We are so proud to be able to advertise this beautiful DVD which features the Old Churches and historical monuments of the Old City Famagusta.
Editorial Reviews
A feature length documentary film on the fascinating history of the remarkable medieval and renaissance city of Famagusta, in Turkish Cyprus, told through the city's magnificent historical architecture. Once one of the world's most famous cities and one of the most strategic in the Mediterranean, now largely forgotten, this award-winning documentary tells the dramatic tale of Famagusta's rise and fall, including events in the famous Ottoman siege of 1570-71. Some medieval chroniclers considered Famagusta the world's richest city in the mid-14th century.
This film brings history alive, hosted by the art historian Allan Langdale (an expert on the architecture of northern Cyprus and the author of the definitive guidebook to the region, "In a Contested Realm"), who takes viewers on a wonderfully detailed tour through the city on his bicycle. Langdale brings you through tunnels, into dusty and forgotten Venetian bastions, shadowy underground churches, and atop the crumbling vaults of centuries old medieval churches. A top notch production. A perfect gift for anyone who loves history, architecture, or art history. An excellent educational film that is also entertaining and beautifully filmed by British cinematographer Dan Frodsham.
The film also conveys the urgent need for international intervention to conserve the endangered historical buildings, threatened by neglect over the decades because of the political impasses on the island of Cyprus. "Ground breaking" - Cyprus Today newspaper; "Must see", the Cyprus Observer; "Brilliant", Cyprus Weekly"; "Superb film" Europa Nostra. Winner, Best Documentary Film, Monterey Bay Independent Film Festival, 2009. Directed by Allan Langdale and Dan Frodsham, Produced by Allan Langdale, Dan Frodsham, and Sanem Sahin, written and hosted by Allan Langdale.