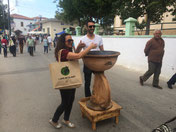 It all started with a small group of people from the village of Büyükkonuk promoting Eco-Tourism to attract ecologically and socially conscious travelers. Today it focuses on showcasing and teaching traditional cypriot skills and customs in order to enhance the local population's cultural integrity and protect the fragile environment. The Eco Day itself has grown over the years and is now an established event, twice a year, on the islands festival.
I had a lovely day at the Büyukkonnuk Eco Day.  A refreshing representation of all that is traditionally Cypriot. Their handicraft and food were on display.  I got there early enough to miss the crowds and to take in the sites of the village and it's lush green environment before the crowds descended.  Parking was easy as they had set aside a number of freshly cut fields just walking distance to where all the activity was.  I was taken back by the numbers stalls there were but was drawn in by the ones that were traditionally dressed.  At the entrance was a big clay pot where a man stood filling and burning olive leaves. Where people were walking by wafting themselves with smoke.  A tradition my mother-in-law introduced to me some years ago to ward of the evil eye.  So naturally I gave it a waft in my direction.
Walking through the village was also a delight.  The layout of which has evolved over generations with traditional winding, narrow streets dotted with private houses and quaint shops, and a number of public gathering spaces.  The tallest buildings in the village are two-story homes traditionally built by families as a show of wealth.   I also noticed some lovely tavernas spotted about the village.  If you are on holiday and want to try out a village taverna, this is a great place to come.
Many of the stalls had displays of the handicrafts traditional to Cyprus including silk worm work and pictures, lace work, pottery, traditional wicker baskets, chairs, woodcarvings and lanterns made from what I think are some kind of pumpkin but I am not sure.  Anyone reading this please feel free to enlighten me.
I particularly enjoyed the children's folk dancing group and the lazy bands hanging around on straws of hay.
A bit further on from the folk dancing I noticed a sign for the olive oil mill, so I decided to go inside and found some lovely old weaving machines and an olive press on show.  Due to the extensive orchards in the region, olives have been an important part of the village's economy since ancient times.  Stone weights from the late Roman and early Byzantine periods have been found during recent excavations in the area.  Apparently there was once seven olive mills within the village today there is only one now functioning on the outskirts of the village.
I also came across a lovely man enticing me in to his shop called Zivania Hans to buy Rakı or Zivaniya. When I said that I thought he was trying to get me drunk he promptly introduced me to his wife who had made some lovely Cypriot style dolls and I was persuaded to buy one. He said that their shop is always there, when all the stalls are gone theirs would be the only one left in place.  I learnt that this place was where tourists can take part in classes to learn the traditional handcrafts and that it was next to the church that had been renovated to new a few years back.  They also have a lovely cafe open to the public.
Wondering back through the stalls, I purchased a few items, some olive oil soap, some pomegranate sauce for my salads and some guzleme (meat, cheese or potatoes filled dough cooked on a special oval shaped hot plate) to take back home with me, oh and some sesame style sweet candy. There was plenty of bread and pastries and olive oil on sale. 
They hold the Eco day twice a year.  So if you missed it this time round you will be able to catch it again.  For further information you can go to their website at http://www.ecotourismcyprus.com/. The village also have an extensive trail network for the hikers amongst you.