Most visitors that come to North Cyprus come for rest and relaxation and a bit of pampering.  The local beaches on the coast of Famagusta will certainly not disappoint, with the fantastic scenery and warm Mediterranean waters. Here are some activities to consider, some to help you relax and unwind others to get your heart beating with some retail therapy thrown in for good measure.
---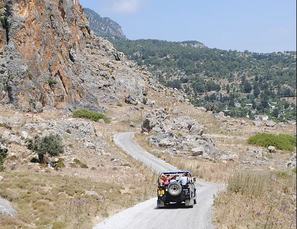 Jeep Safari
No promise of lions or tigers but you can have a fantastic family day out on a off road adventure exploring the scenic mountain ranges and enjoying the informative, friendly and cultural experience. 
---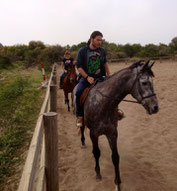 Horse Riding 
With a couple of horse riding schools on the island you can enjoy a scenic forest ride with a qualified instructor. Tours to beaches, historical sights and local villages can be arranged.
---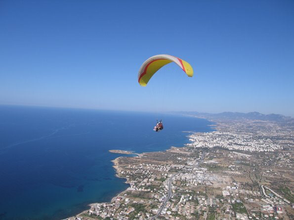 Paragliding
For those who seek an adrenalin rush, paragliding is another sporting attraction available to those who visit Northern Cyprus between April and October. It is also the perfect chance to take some great photographs of the fascinating scenery with a birds-eye view. If you are looking for something with a little more adrenalin then why not jump from the mountain and fly down to the sea. This dare-devil sport is a fantastic way to see the Island from the air and take in the magnificent North Cyprus scenery. The experience is unforgettable and one you may wish to repeat again and again.
---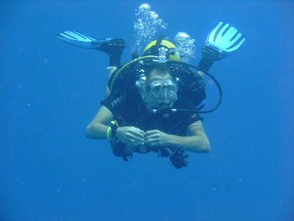 Diving and Snorkelling
The warm and crystal clear waters surrounding Northern Cyprus offer the perfect opportunity for divers from all over the world to discover the fascinating marine life. Owing to the fact that, the water temperature in November is about 20C the diving season lasts from April up until December.  So whether you like to snorkel, dive or just relax in the sea all along the coast line you can find places to dip your feet.  With a number of professional dive schools the island is a perfect place to learn to dive. If you are an experienced diver you will enjoy the marine life and interesting topography and trips can be arranged to dive The Zenobia a famous wreck dive. 
---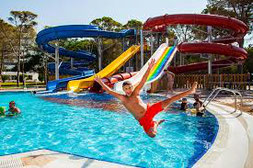 Water Parks and Hotel Day Passes
Salamis Hotel has recently added an small water park to its hotel features which you can access on a day pass.  Both Kaya Artemis Resort and the new Noah's Ark Hotel have small water parks also available to access on a day pass.  Most of the hotels will allow you to use their services and facilities including food and drinks for a daily rate.  If you want a large water park you will need to head over to Ayia Napa's Waterworld.
---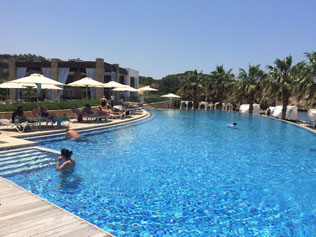 Marina Beach Club
The new Marina in the Karpaz area has a lovely beach club and restaurant which is great for a day out with the family or with visitors.  You get ushered around on their beach buggies and the overflow pool is a delight.  For just 20TL you get to use all the facilities with towels provided and waiter service.
---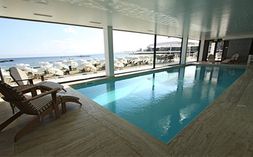 Spas
Most hotels also have a spa area.  Some with indoor pool, turkish baths, saunas and massage and therapy rooms.  Also available for the general public.
---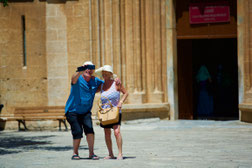 Site Seeing
We have some of the best historical sites of the whole island in this area and definitely worth a few days out of your holiday to investigate. Salamis Ruins is well worth a visit with its wonderful amphitheater and roman baths.  Saint Barnabas Monastery hosts an archaeological museum, which displays artefacts from the nearby Royal Tombs and the Salamis Ruins. The convent church is used as an icon museum and its murals extensively tell the story of Saint Barnabas.  Famagusta has a number of historical sights for you to enjoy.  The Old Town Famagusta is in itself an open air museum which houses the Venetian Palace,  the Namik Kemal Museum and prison,  the Lala Mustafa Pasa Mosque, a number of medieval churches and Othello Castle.  Also there is a small Museum in Canbulet Bation dedicated to Ottoman general who lost his life capturing the City in 1570.  Apostolos Andreas monastery at the tip of the island is one of the most important pilgrimage sites on the island.  Take a look at our recent blog post famagusta facelift.  For a map of Famagusta's Old City historical monuments see blog post Famagusta Trail.
---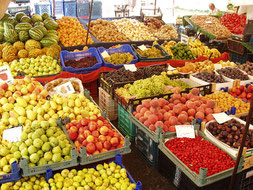 Shopping
Many of the shops on the tourist paths will have imitations products for sale including jeans, watches, handbags and international designer names.  Liquor and cigarettes are on offer in many markets and can be purchased relatively cheaply. The open market in Famagusta is on a Thursday in the main bus terminal where the locals buy their fruit and vegetables plus fresh fish, fresh cheese, olives and bread from the villages plus a variety of dried fruits and Turkish delight.  Here you will also find a number of stalls with a variety of goods including shoes, clothes, underwear, household items, table clothes plus garden items and plants.
Alternatively in the New Town you can find everything you need here in North Cyprus whilst enjoying an alternative experience at the same time and although the shopping experience might not be quite the same as back home; with the typical brands names you may be used to, North Cyprus has its own brands that are equally accessible.  For example: Koton, Mavi Jeans, LC Waikiki, DeFacto, Collezione, to name but a few. You will however, find some international brand names including Adidas, Nike, Benetton, Vans and Converse.  These shops are located on the main Salamis Road and in our new shopping Mall.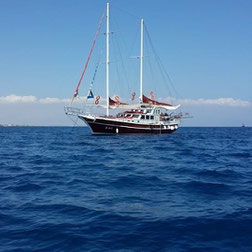 Boat Trip
There is one boat running from Famagusta Port along the coastline.  Lal Yatı Magusa Lnsmarine.  On Facebook page: https://www.facebook.com/lns.marin. Personally recommended. Great day out on the sea with lunch included, tea and a complimentary liquor. You can swim off the boat and get a great view of the Ghost Town in Famagusta and the Port area. Banana Ride also available on board.
---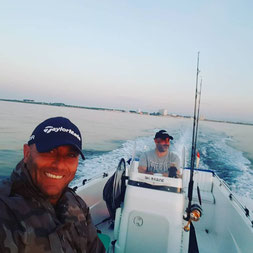 Fishing Trip
Fishing trips can be arranged for small groups with a chance to catch Albacore Tuna, Bluefin Tuna, Skipjack Tuna, Bonito and Mediterranean Spearfish. All fishing tackle, safety equipment and refreshments are provided.
---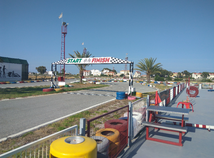 Go-Karting
There are a number of go-karting tracks in North Cyprus.  Visit ZET International Karting Circuit. The circuit is 1200 metres long and 7 metres wide with 5 different racing distances. In Famagusta head for the smaller Max Power Go-Kart track.
---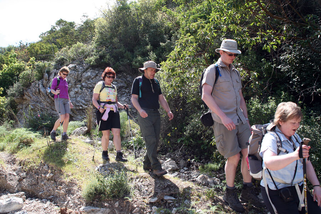 Orchid walks 
If you are in Cyprus in spring time you don't have to walk far in the mountains to spot some of the islands special orchids. With more than 30 different species of Cypriot orchids you may wish take a guided day tour or join one of the walking groups who meet weekly to enjoy and discover the beautiful scenery and flora and fauna the island has to offer.
---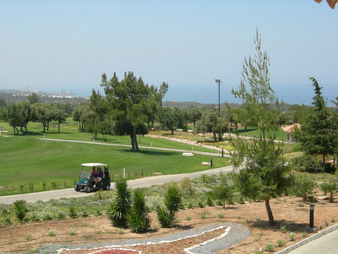 Golf
Due to its mild climate, Cyprus is a suitable site for the sport of golf to be played all year round. Top quality facilities which have recently been built increase the attraction to the sport on the island.  Korenium Golf and country club is located along the North coast road just 15 minutes East of Kyrenia and offers International 18 hole golf course. With stunning scenery the greens scattered with carob and olive trees and the sea can be seen from all points of the course.  The country club is a place to visit even if you are not playing golf with its top class restaurant and spa center. 
---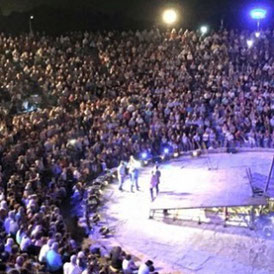 Arts and Entertainment
Famagusta also hosts the International Art and Culture Festival every year at the end of June/July.  It is held at the atmospheric Salamis Ruins where you can sit in the original amphitheater with your wine and picnic hamper and enjoy this wonderful event which features Classical, Jazz, Hip Hop, Reggae, World and Ethnic Music and dance.  Performers come from different part of the world, both old and new.  The Festival is recognised by the Media and Arts authorities as one of the best in the world.  Tourists and locals alike attend this now well known festival. Last year Salamis ruins also hosted 250 singers and musicians from Germany, Switzerland, Austria and North Cyprus on the stage of the ancient theater at two free-of-charge, open-air concerts in August.
---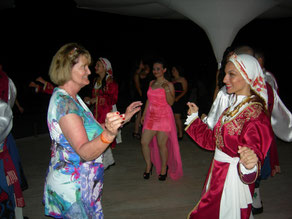 Nightlife
In the summer months their are a number beach venues which will host parties and events in the open air in the peak season.  Fliers are normally distributed in town and on billboards.  Salamis Hotel will occasionally offer concerts from famous Turkish singers and has its own disco. Palm Beach Hotel offers Film Nights, Bingo Nights, and Traditional Cypriot Nights which are also accessible.  The Old Town can be quite vibrant in the summer months with a number of activities taking place in the Square.  The New Town main street is alive in the summer months also with a number of eating places, takeaways, cafes and coffee houses.   If you want to go further afield Kyrenia has a vibrant nightlife with number of clubs and beach venues. We also have two cinemas in Famagusta showing International and Turkish Films in English and Turkish with subtitles. Galleria Cinema Club, Sakarya Gazimağusa +90392 365 1270 and Mağusa Lemar Cineplex, Gazi Mustafa Kemal Bulvarı +90392 365 6387.
---
Casinos
For those who would like to try their luck under the dazzling array of lights, North Cyprus has the finest of top quality casinos legally operating, just as in countries such as USA, Germany, China and Australia.  All the hotels on the North of the island have a casinos.  Some are open 24 hours a day, some open at midday until the early hours of the morning.  Most feature slot machines and a number of table games. Some will give free food and drink if you intend to spend the evening and spend some money in the machines.  The casinos will attract a mix of holiday makers and big spending gamblers from Turkey and the South of the Island because gambling is not legal in many countries which makes North Cyprus the ideal destination for those that like gambling. Try Salamis Hotel, Palm Beach Hotel and Kaya Artemis Resort in the Famagusta/Karpaz area.
---
Well I hope this has given you a taste of what you can do in North Cyprus.  Perhaps also take a look at my holiday guide blog.
Happy Holidays!