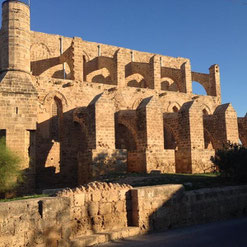 I have really enjoyed following the historical art conservation guys over the years that I have lived in North Cyprus. I have had the pleasure of meeting Werner Schmid, the art conservator, and Michael Walsh, Art Historian and Professor, and Dan Frodsham, camera man and film maker.  They have on many occasions needed somewhere to stay and have found our properties a comfortable respite from their long and painstakingly arduous task of restoring these historical works of art.  So lovely to see the finished article in its natural environment instead of hanging on some gallery wall somewhere.
In 2012, Werner and his team, undertook a project to conserve the surviving wall painting fragments, in the Church of St. Peter and Paul (Sinan Pasha Mosque). Unfortunately at present the church is closed to the public which in my mind is crazy, but have you ever wondered what they seem to be hiding inside?
For five hundred years, an exquisite Renaissance fresco depicting the Forty Martyrs of Sebaste has remained hidden, forgotten, and neglected on the wall of a fourteenth-century church in Famagusta, Cyprus. The short film below charts the painstaking work of rescuing the fresco from obscurity and ruin, as part of a pioneering project that puts heritage above politics, to begin, after decades of neglect, the work of saving Famagusta's forgotten frescos. Produced, directed, and narrated by Dan Frodsham.
If you are interested in the short film about its restoration you can view it here.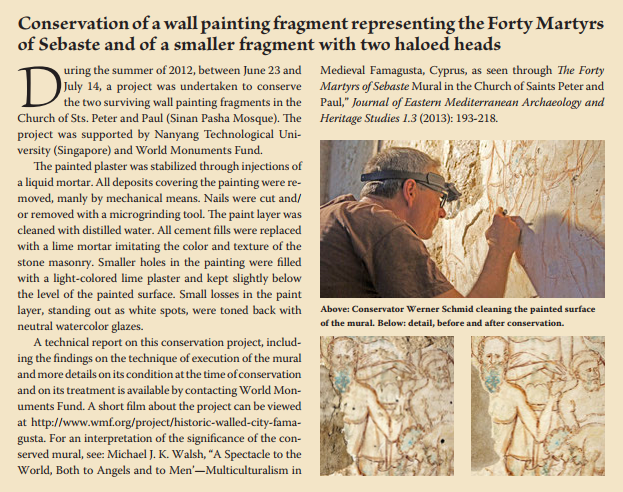 If you want to read more of the work of the World Monument Fund and the conversation that has and is being undertaken in the Old City, there is a great report you can read here. Also the UNDP's website is a good source of information  www.cy.undp.org.  Both these resources explain in depth the restoration projects undertaken.
See also my recent blog posts - Famagusta Facelift